| | |
| --- | --- |
| Archived Liverpool Reporter Program | An Exclusive Video Interview With Elisabeth Sladen |
THE exclusive footage was taken on the night of Wednesday 29 November 2006. Being interviewed you can see and hear actress Elisabeth Sladen who played Sarah Jane Smith in the cult BBC TV show 'Doctor Who' and now in a new BBC spin off series called 'Sarah Jane Investigates' also known as the 'The Sarah Jane Adventures'. Conducting the interview was Jonathan Thompson and filming/directing the interview was Patrick Trollope. Researched by Mark Lee and copy written by Eric Lyon-Taylor. Music by Zombina and the Skeletones

Click here to run out of page in RealPlayer it self or if you have Firefox...

Press PLAY button to start. You must have Real Player 8 or above to play the footage. If you do not have real player, click here.
Elisabeth Sladen was born on 1 February 1948 in Liverpool (England). Early television work included appearances in Granada Television's 'Coronation Street' in 1970, the highly influential cult TV show 'Doomwatch', produced by the BBC in 1972, The BBC show 'Some Mothers Do 'Ave 'Em' in 1973, as well as 'Public Eye' and the classic Liverpool Police series called 'Z Cars.' made by the BBC. It was not how ever to she landed the role as the Doctor's female companion that she hit the publics attention in the 1970 and this lead on to her character being the longest serving character of all the Dr Who companions.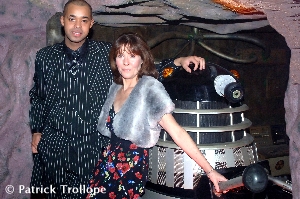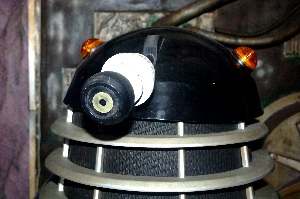 PRINT OFF
PRINT OFF

Fact card 1.
Fact Card 2.
Useful links:-
Thank you to all who helped us make this video. With special thanks to the following:- BBC, Zombina and the Skeletones, The Palace Hotel in Manchester, FAB Cafe
Copyright © PCBT Photography 2006-2007